LEDs are appropriate for many lighting applications, they are designed to produce a lot of light from a small form factor while maintaining fantastic efficiency. Here at LEDSupply there are a variety of LEDs for all kinds of different lighting applications, the trick is knowing how to use them. LED technology is a tad different than other lighting that most people are familiar with. This post is here to explain everything you need to know about LED lighting: how to power LEDs safely so you get the most light and the longest lifetime possible.
What Exactly is an LED?
An LED is a type of diode that turns electrical energy into light. For those that don't know, a diode is an electrical component that only works in one direction. Basically an LED is an electrical component that emits light when electricity flows through in one direction, from the Anode (positive side) to the Cathode (negative side).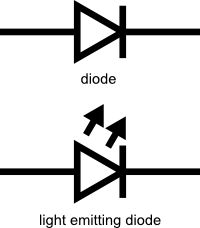 LED is an acronym standing for 'Light Emitting Diode'. Basically, LEDs are like tiny light bulbs, they just require a lot less power to light up and are much more efficient in producing high light outputs.
LED Types
In general terms, we carry two different types of LEDs:
5mm LEDs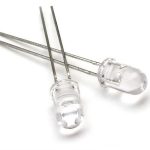 5mm LEDs are diodes inside a 5mm diameter lens with two thin metal legs on the bottom. They are used in applications where a lower amount of light is required. 5mm LEDs also run at much lower drive currents, maxing out at around 30mA, whereas Surface Mount LEDs require a minimum of 350mA. All our 5mm LEDs are from top manufacturers and are available in a variety of colors, intensities and illumination patterns. Through-hole LEDs are great for small flashlight applications, signage and anything where you are using a breadboard as they can be used easily with their leads. Check out our guide to setting up 5mm LEDs for more info on these tiny light sources.1206(3216)Single Color SMD Led
Surface Mount LEDs (SMD)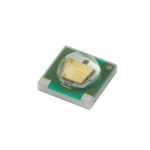 Surface Mount LEDs are diode(s) that can be placed on a substrate (circuit board) with a silicon dome over the diode to protect it (see Fig. 1). We carry high-power Surface Mount LEDs from industry leaders Cree and Luxeon. Both are excellent in our opinion, that is why we carry them after all. Some prefer one over the other but that comes with experience and knowing what to look for. Cree tends to have higher listed Lumen outputs and are a market leader in the High-Power LED sector. Luxeon, on the other hand, has excellent colors and thermal control.
High Power LEDs come as bare emitters (as seen in Fig. 1) or mounted to a Metal Core Printed Circuit Board (MCPCB). The boards are insulated and contain conductive tracks for easy circuit connections. Our 20mm 1-Up and 3-Up star board designs are the best sellers. We also offer QuadPod's which can hold 4 high power LEDs on a board slightly larger than the 20mm stars (see Fig. 2). All our high power LED options can be built on a linear design as well. The LuxStrip can house 6 LEDs per foot and are easily connected up to 10 feet long.