Continuing the pioneering trend; first to market with new technology and breakthrough sheetfed ink formulations, Flint Group announced the global launch of its latest version UV LED process inks, XCURA EVO.
"EVO" is short for evolutionary," explains Trevor Amps, Global Product Management Director for Energy Curing inks. "This signals a step change from our world renowned XCURA formulations which, for the past four years, have served our customers very well as an industry leader. XCURA EVO is our next generation offer to the UV LED and low energy sheetfed market, and we are very pleased to announce its global launch today."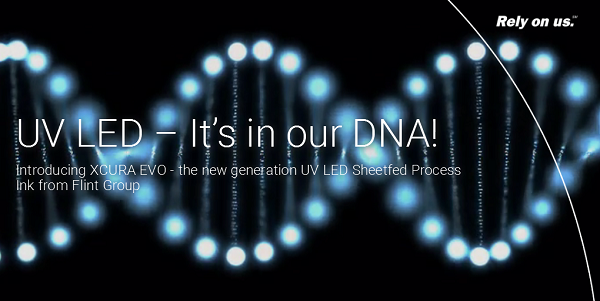 (Image: Flint Group)
"More and more sheetfed press manufacturers are heading their technology development with LED and low energy curing, and we see growing numbers of retro-fit conversions from lamp providers and OEMs as well," stated Mr Amps. "Some of the main drivers encouraging commercial printers to switch to UV LED are improved efficiency, reduced energy costs and the ability to break into new markets. XCURA EVO helps to maximise all of these with its excellent flow characteristic, superb transfer and high gloss."
Based on the new and unique energy curing "Platform Technology" that premiered in May 2017 with UltraCURA® Sens Low Migration process inks and bases, XCURA EVO is created out of the new advanced resin technology system, which delivers increased stability and performance consistency.
"We're very pleased with the number of improvements we've achieved with "Platform Technology." revealed Dario Zarantoniello, UV Inks and Coatings Technical Manager who managed field trials of the new inks. "We tested EVO on all the main presses and many formats, straight and perfecting, with and without IPA, highest production speeds and quality standards and we drew critical comparisons against our existing products and all of our main competitors. The customers noted better gloss levels, exceptional colour strength and sharper dots. They also commented on much better stability, as production speeds increased, offering tangible efficiency benefits."
"XCURA EVO is the second global launch this year to be created with these unique formulations," Mr Amps tells us. "As well as all the improvements Dario just mentioned, one more main impact from EVO is the low waste generated thanks to excellent transfer properties on all substrates. Add to this the fact that all Flint Group sheetfed energy curing products are compliant with current raw material exclusion lists, National and International regulations and manufacturing best practice, as laid down by advisory bodies, such as the European Printing Ink Association (EuPIA), and the result is a very positive, sustainable product offering in our latest energy curing product range. Considering we are the only manufacturer offering just one product for both UV LED and the low energy systems, I think we've come up with an excellent new product that will prove to be a real winner!"